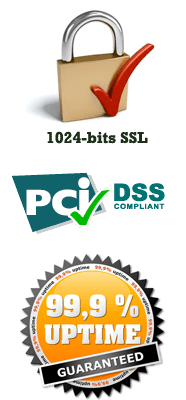 Yanomo is a Software-as-a-Service. This means we're not providing software-in-a-box, but that you can "rent" our software over the internet. This has many advantages.
Q: Does Yanomo need to be installed on my computer?
It doesn't, which is great news. Yanomo doesn't "live" on your computer, but on our secure web servers. It is directly accessible from any common web browser on any computer with an internet connection. This connection is secure and hassle-free. Since you don't have to install any software, your use of Yanomo isn't restrained by a specific device. You can always access Yanomo from another computer - as long as its connected to the internet.
Q: Why is a SaaS solution more cost-effective than software-in-a-box?
Your monthly costs are based on the number of your people that actually use Yanomo - and that's all there is. There are no setup costs. There are no investments in hard- and software. There are no service and maintenance fees. You can quit using Yanomo whenever you want, without any obligations.
Q: How do I update Yanomo to the latest versions?
We're always tuning Yanomo to make it faster, easier and more powerful. You'll be automatically upgraded to the latest version when there is one available. This service is free.
Q: So I trust you with my data. Do you make backups?
Every Yanomo client database is backed up at least once a day. Furthermore, your data is always accessible and downloadable, but only to people from your organization that you have entrusted with the right permissions.
Q: How do you secure my data?
All data traffic between Yanomo and your computer is SSL-encrypted, with the same 1024-bit certificate used in internet banking. The servers used to store your data are protected by 24/7 security, with biometric locks and full CCTV surveillance. Our servers are SSAE 16 / SAS 70 Type II audited. We take security very seriously. After all, it's your trust that allows us to build our business.
Q: Do you support every browser type?
We support every common browser version: Firefox, Chrome, Safari, Opera and Internet Explorer 7+.
Security Checklist
| | |
| --- | --- |
| Data encryption | 1024-bits SSL |
| Password encryption | ✓ |
| Secure hosting | ✓ |
| Hosting location | Any place you prefer - AWS Frankfurt is default location |
| Walled-off database | ✓ |
| Uptime | >99.99% |
| Daily backups | ✓ |
| User privileges | ✓ |
| Export to Excel | ✓ |
| Client data import | ✓ |
| Data accessibility | Always (for users with privileges) |
| Supported browsers | IE 7+, Firefox, Safari, Chrome, Opera |
| PCI Compliance | ✓ |
Note for Security Researchers: Maintaining the safety and privacy of your data with Yanomo is one of our top goals. If you are a security researcher (or any other perceptive user) and have discovered a security vulnerability in one of our products, please contact support. We consider reports to this address to be of the highest priority, and will investigate them as quickly as possible.

Please include the steps to reproduce the issue in any submission you send. As a special thanks to individuals who have reported previously-unknown vulnerabilities of high or critical security, Yanomo will maintain a list of credits on this page.
Thanks to: Edis Konstantini, Kamil Sevi, Sumit Jain, Naveen Sihag, Kamran Saifullah, Shivam Kumar Agarwal, Nadi Abdellah, Latish Danawale, Pflash Punk, Rohit Dhongade, Suraj Mulik, Yogesh Shinde, Shailesh Wagh, Aaysha Khilji, Muhammad Zeeshan, Tayyab Qadir, Jay Patel, Sumit Sahoo, Amey Gorde, Ahmed Jerbi, Konduru Jashwanth, SaifAllah benMassaoud, Balvinder Singh, Pankaj Rane, Sree Visakh Jain, Mansoor Gilal Deepak Kumar Nath, Waqar Vicky, Zee Shan, Nithish M. Varghese, Pratik Satapathy, Kiran Karnad, Mansouri Badis, Shawar Khan, Pratap Chandra, PS Hussain Khan(Entersoft information systems), Mansoor Gilal, Noman Shaikh, Indo Willy, Ambreen Ansari.